Fewer than two years after he piloted one of college football's greatest seasons, Coach O is out from his dream job amid an untenable situation in Baton Rouge.
Last week, during Ed Orgeron's weekly call-in radio show, a fan buzzed the line asking the coach to wish his younger sister a happy birthday. The caller claimed that the young woman was in attendance at the radio show, held each Saturday in the fall at a Baton Rouge restaurant. The caller seemed serious and authentic. Orgeron scanned the room for the woman.
And then, abruptly, the man on the line revealed himself as a prankster. Using more blunt words, he told Orgeron not to pursue his sister romantically. Orgeron's face hardened, and, despite the show's host attempting to move on quickly, the coach stretched back in his chair, smirked and said, "You know, down the bayou, we got a nice little fishing hole for people like that."
Two years ago, while LSU marched undefeated to its national championship, Orgeron's reply might have been brushed off as a humorous retort, a facetious response from a man known for such quips.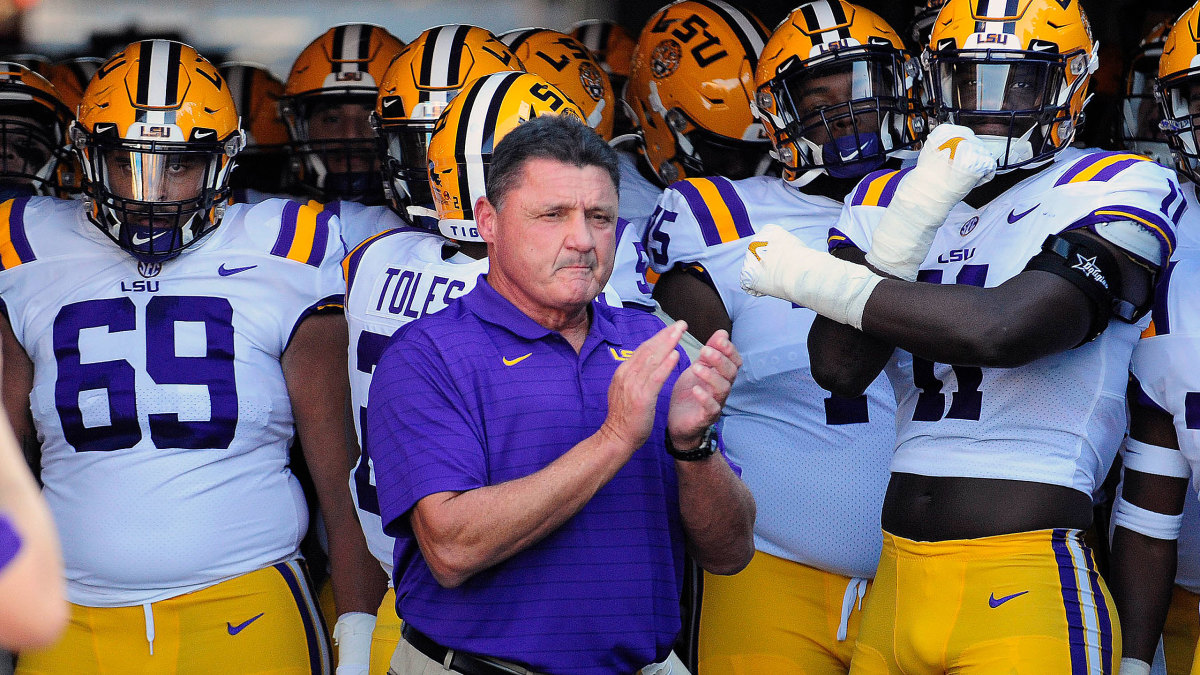 This year, with his team struggling and issues mounting within the program, Orgeron's comment was received as another public embarrassment for the university—a veiled death threat even—that created more friction between the coach and the school's frustrated administration.https://2a4d428081830d4e1ea181cb92a09ba0.safeframe.googlesyndication.com/safeframe/1-0-38/html/container.html
Roughly a week after that call-in show, the school and its coach—such a happy marriage that produced the ultimate success—began negotiations to split, days before LSU's surprising 49–42 win over Florida on Saturday. By the end of the week, the two sides agreed to a settlement, sources tell Sports Illustrated: He will not return in 2022 but will coach the remainder of the '21 season (LSU announced the news later Sunday).
It is a historic and unprecedented move: a school ushering out a coach with a 74% winning percentage who is a mere 21 months removed from winning a national championship. It is a stunning fall from grace—a bayou-born man who rose from previous failures, claimed the sport's greatest prize and signed one of the richest contracts in the sport fewer than two years ago.
Orgeron, the second-highest paid coach in the country at more than $8 million a year with a buyout of $17 million, saw his program begin crumbling under the weight of myriad issues. A strained relationship between the coach and administration warped into an untenable situation in Baton Rouge, producing rampant distrust and outbursts.
For example, in the locker room following LSU's season-opening loss against UCLA at the Rose Bowl and with athletic director Scott Woodward in earshot, Orgeron angrily suggested that school officials could fire him if they wanted, a loud and stirring recognition of his own troublesome job security just one game into the season.https://2a4d428081830d4e1ea181cb92a09ba0.safeframe.googlesyndication.com/safeframe/1-0-38/html/container.html
Three people privy to the incident spoke to SI, with one source saying: "He said that to the team: 'They can fire my ass! I'm a grown man. They can come try to get me!' "
Closed-door eruptions—which included at least one chair-throwing incident—are only part of explaining one of the quickest collapses of a football program in the history of the game, from assembling one of the sport's greatest teams to spiraling toward the basement of the SEC. How did LSU get here?
More than a dozen people in and around the university spoke to SI, under condition of anonymity, to share stories that help answer that question. They paint a picture of a program that began tilting toward disaster last summer during a mishandling of a player-led social injustice march. Others cite Orgeron's eccentric behavior, both private and public, that remind many of his tenure as Ole Miss's coach, which ended in 2007.
The answer for some is much more simple. The foundation of Orgeron's early-career success in Baton Rouge left him. That includes key assistants, defensive coordinator Dave Aranda and pass-game coordinator Joe Brady, and one of the best quarterbacks to ever play in the college game, Joe Burrow—the three anchors of the 2019, 15–0 national championship squad.https://2a4d428081830d4e1ea181cb92a09ba0.safeframe.googlesyndication.com/safeframe/1-0-38/html/container.html
Combine the departures with failed coordinator hires, a rash of significant injuries this year, lingering NCAA and Title IX investigations and a brand-new school president, and LSU finds itself looking for a new leader.
"You get on top and you start to live differently. And that's when the fall happens," says one source close to the football program. "Here's a coach who finally, after decades in the game, achieves the maximum goal. But when you achieve it, it's 'My problems are done!' No. Success sometimes isn't an end to a problem. It's the beginning of more."
---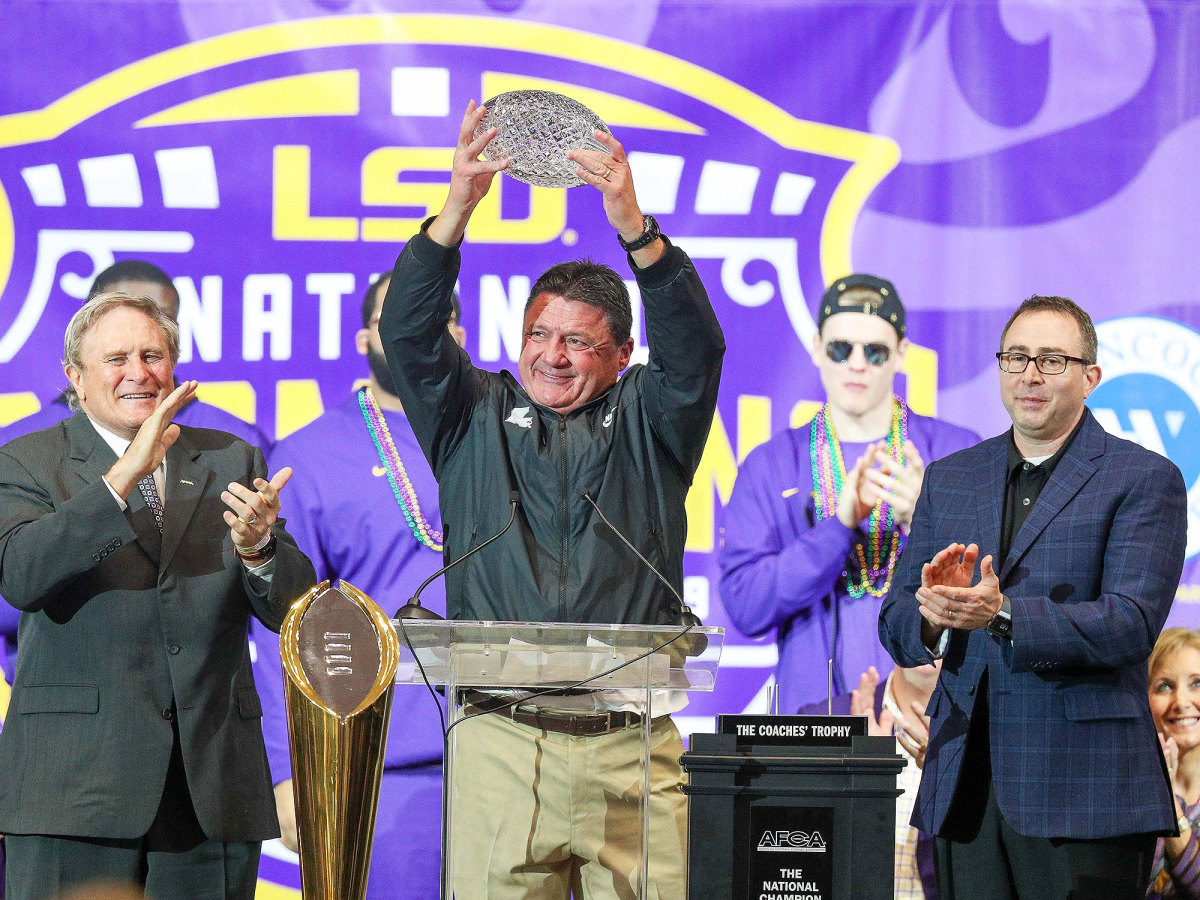 After taking over as interim for the fired Les Miles four games into the 2016 season, Orgeron led the Tigers to a 6–2 record, excited a fan base with a more high-flying offense and endeared himself to athletic director Joe Alleva and a group of decision-makers with a job pitch. He'd hire strong coordinators, stay out of their way and serve as the face of LSU football—a recruiting whiz and motivational force. When Tom Herman chose to coach Texas and not LSU, Orgeron, originally from about 100 miles south of Baton Rouge, landed his dream job.
Read More>>>> https://bit.ly/3pcC2oA
Please follow and like us:
Hits: 6