Our thought on quarterbacks in the Saturday's spring game:
Jayden Daniels
Despite a sluggish start on his first drive and much of the first half, Daniels still showed this coaching staff how dynamic he can be on the field. A three and out to start the game, his hesitation showed early in Death Valley.
Missing a few throws and taking a couple of sacks throughout his first pair of drives, Daniels came out with something to prove in the second half, delivering a 39-yard dime to Brian Thomas, setting up a touchdown run shortly after.
Daniels' wheels were the major takeaway during his reps. Quick and twitchy in the pocket, the scrambling ability he attains is what makes him such a true dual-threat. A play style that compliments offensive coordinator Mike Denbrock's system, it'll be interesting to monitor Daniels' growth throughout the summer into fall camp.
Myles Brennan
The sixth-year gunslinger looked sharp throughout the Tiger's spring game. Finishing the scrimmage going 11-of-17 for 99 yards and one touchdown, Brennan got some time with both the first and second-team to get some snaps under his belt.ADVERTISING
Hitting check downs and making the smart read on a majority of his reps, Brennan's composure in the pocket was evident from the jump. After a strong spring camp, many believed he could elevate his chances as the Bayou Bengals' QB1 in their scrimmage, but strong showings from both Daniels and Nussmeier made this battle that much more enticing.
All in all, Brennan looked calm, cool and collected with the ball in his hands. Controlling the pace and looking like the veteran quarterback this team knows he is, Brennan continued to make his case as the starting quarterback of LSU.Scroll to Continue
Read More
LSU Football to Roster Address Needs Quickly After Spring BallAPR 19, 2022
Why LSU's Derek Stingley is Making Some NFL Teams UneasyMAR 12, 2022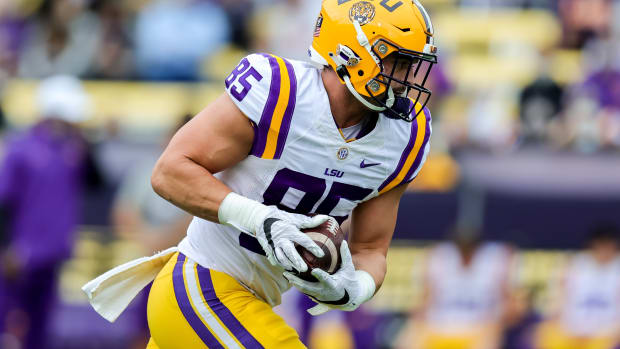 LSU Football Adds Familiar Face Back to 2022 RosterAPR 14, 2022
Garrett Nussmeier
Nussmeier passed the eye test Saturday. Making all the throws you could ask of a quarterback and really getting into a groove early, the redshirt freshman went 9-of-16 on his throws for 136 yards and a touchdown.
Head coach Brian Kelly was complimentary of the second-year signal-caller after a solid performance in the Tiger's spring game.
"I think you've got to be careful with a guy like that, that's really talented, that you don't try to over-coach that," Kelly said. "Make sure he takes care of the football. If he does that, if he makes a mistake here or there with the talent that he has, then just go play football."
The play of Nussmeier certainly made this quarterback battle that much more competitive. With most thinking it would be a race between both Brennan and Daniels, Nussmeier proved he belongs in the conversation as we head into summer ball.
Please follow and like us:
Hits: 25