At LSU's appearance during SEC Media Days on July 18, Kelly described what he expects in a starting quarterback.
"Number one, they have to take care of the football," Kelly said. "Number two, they have to get the ball to playmakers. Number three, they've got to make plays. The ultimate decision-making on who that quarterback is, he'll have to hit those three notes."
Brennan started the first three games of 2020 and averaged 370 passing yards and almost four TDs before sustaining a season-ending torn abdomen. He missed all last season after breaking his left arm in a fall just before the start of spring practice when his flip-flop got caught between the crack of wooden steps.
After putting his name in the transfer portal, Brennan withdrew it in December when new-hire Kelly called him and asked him to return to the team.
In the spring, even during the spring game when playcalling was purposely vanilla, Brennan shined with poise and his ability to read the defense, get the offense in the right play and consistently find the open receiver.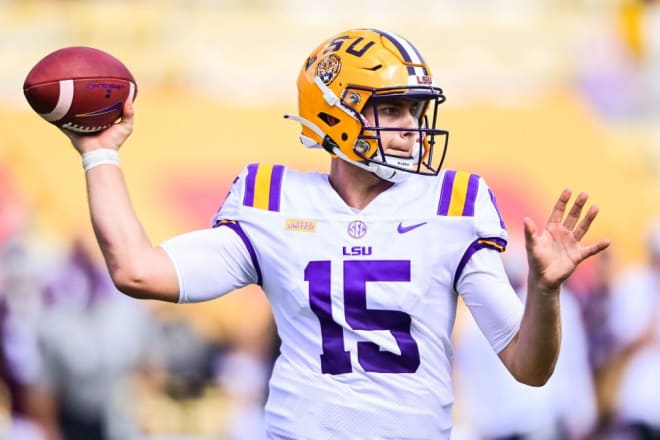 Brennan has played 18 college games (backing up Danny Etling in 2017 and Joe Burrow in 2019) and has passed for 1,712 yards, 13 TDs, and six interceptions. He has 35 rushing attempts for minus 1 yard, indicating that footspeed isn't his strength.
A plus for Brennan is he's sturdier built (6-4, 225) than Daniels (6-3, 200), Nussmeier (6-2, 194), and Howard (6-1, 195).
"I've been in this position before and I've come out on top," Brennan said in June when he was a Manning Passing Academy counselor. "I know what I have to do to do that. That's between me and me."
Daniels started 29 games in three seasons at Arizona State, passing for 6.025 yards (62.4 completion percentage) with 32 TDs and 13 interceptions while rushing for 1,288 yards and 13 TDs.
"It's a healthy competition," said Daniels during the spring, who struggled with passing accuracy while transitioning to a new offensive scheme.
Nussmeier played four games last season as a true freshman and started once. He threw for 329 yards (50.9 completion percentage), two TDs, and two interceptions and lost 46 rushing yards on five attempts.
"I've learned to manage the offense, move the sticks," Nussmeier said in the spring when practice observers deemed him one of the most improved players on the team.
Four-star freshman Howard will likely redshirt.
Kelly is not averse to playing two QBs, especially since Brennan and Daniels have contrasting styles.
"We're really going to have to set the offensive structure and its installation to the skill set of the particular players," Kelly said.
Please follow and like us:
Hits: 4